Many of you may have seen our exciting news earlier this summer about BDL's new partnerships with Baraka Shea Butter, evanhealy, and The Savannah Fruits Company to bring the improved shea roaster to cooperatives throughout Ghana. After four years on this project, we are beginning to make incredible inroads in Ghana and the hand-crafted shea butter industry. We are so grateful for the support you have shown us, as this project is down to your belief in BDL and a better future for families exposed to polluting smoke in their homes and at work every day.
These partnerships are a critical next step in bringing our roaster technology to the shea belt and the 3 million people who work in the shea butter industry there. The next step in our project is the one-and-a-half-year pilot phase, which we were able to begin earlier this year thanks to our generous supporters.
Our goals are to bring the manufacturing of the improved shea roaster to West Africa, beginning in Ghana, and perform a longer-term study of the performance, durability, and adoption of our roaster facilitated by our partners at The Savannah Fruits Company and Nitidae. The first roasters were produced in Ghana between April and June, and the study began at the end of July.
In June, ten locally produced roasters (manufactured in Ghana) were completed and installed across several cooperatives in the Northern Region of Ghana. By the end of phase one, we will have transferred the technology and manufacturing methods of the improved shea roaster to two different fabricators in Ghana, installed the roaster in five cooperatives, and trained more than 500 women on the operation and maintenance of BDL's improved roaster! None of this life-changing technology would be possible without your support.
Long term, we are looking at scaling the local manufacturing and expanding to West African countries outside Ghana within the next three years. We aim to set up production in one or more countries and be able to step back and be less involved in the day-to-day work. With your help, we will be in at least four countries, with 10,000 roasters in use and over 300,000 women impacted!
BDL's Web of Positive Feedback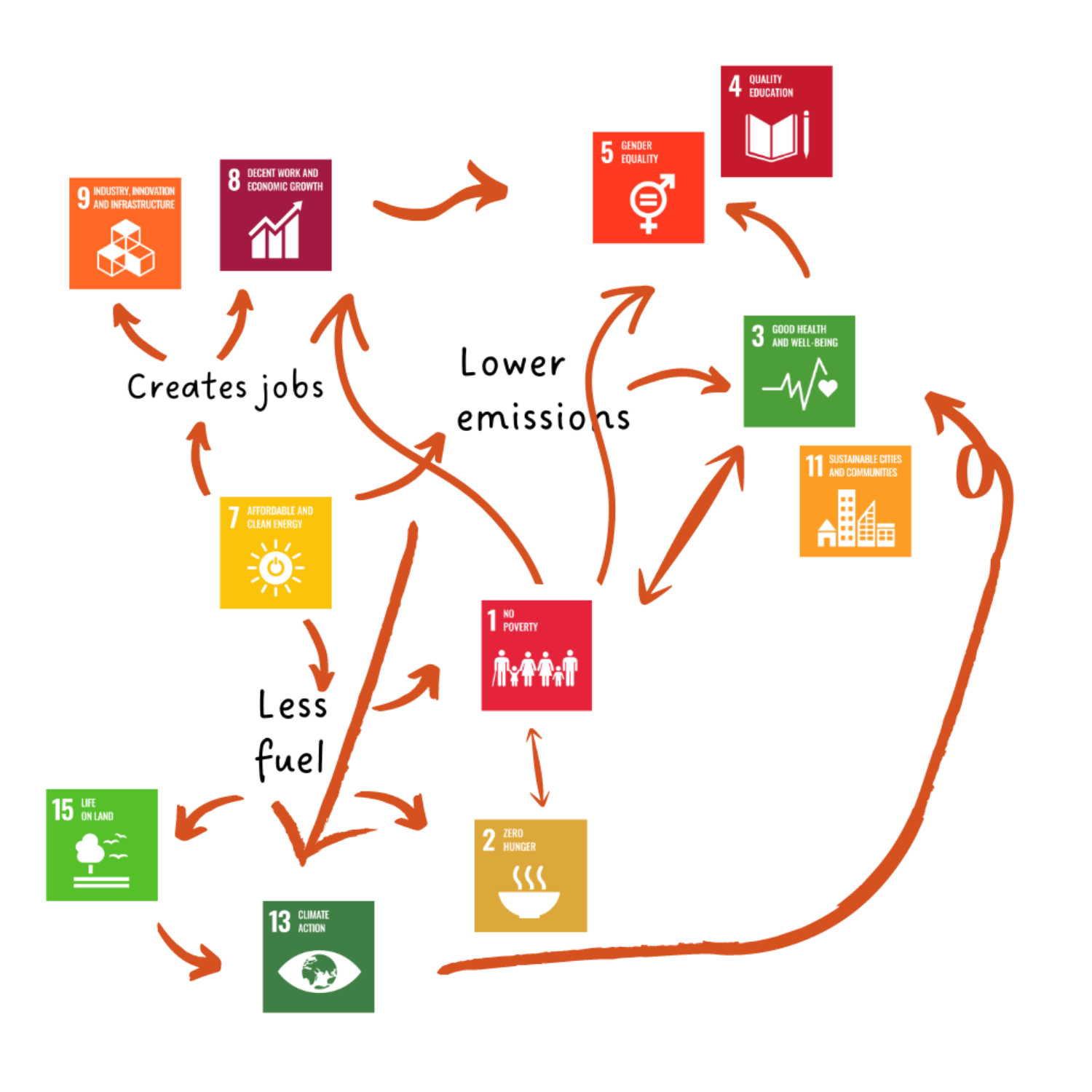 When discussing BDL and the impact you as a supporter enable, we're sure it can often seem challenging to share a concise statement of what we do and why it matters. Our team certainly feels that struggle! The United Nation's Sustainable Development Goals provide a framework to understand the interconnectedness of our organization's outcomes and quantify their impact.
The SDG's were adopted in 2015 by all UN Member States as a blueprint to achieve a better and more sustainable future for all people and the world by 2030. That's an ambitious goal, and we are fortunate that this work directly impacts 11 of the 17 goals!
By designing and manufacturing cookstoves, we directly impact SDG 7, Affordable and Clean Energy.

By increasing thermal efficiency, our cookstoves consume less fuel. As a result, families spend less money and time on fuel (SDG 1—No Poverty), and less fuel consumption leads to less deforestation (SDG 15—Life on Land, SDG 13—Climate Action).
Reducing time spent collecting fuel allows for other income-generating activities or time spent growing food, bringing more families closer to food security (SDG 2 – Zero Hunger).
Lower emissions associated with cookstoves directly impact the health of the people using them by reducing the risk of respiratory illness associated with alternative cooking methods (SDG 3—Good Health and Wellbeing).
Clean cookstoves also address the problem of air pollution, improving cooking conditions and climate vulnerabilities for communities (SDG 11 – Sustainable Cities & Communities).
These cookstoves also enable the women who use them to cook faster, safer, and more efficiently (SDG 5—Gender Equality). Since girls are often tasked with cooking or fuel collection, faster cooking time and less fuel allow children to dedicate more time to their education (SDG 4 – Quality Education).
Producing cookstoves in-country creates jobs and supports the local economy (SDG 8 – Decent Work and Economic Growth, SDG 9 – Industry Innovation and Infrastructure).
It's a complex system, but it illustrates how supporting one goal leads to an interconnected web of positive feedback. By supporting the production of efficient, low-emission cookstoves, you help people and the planet.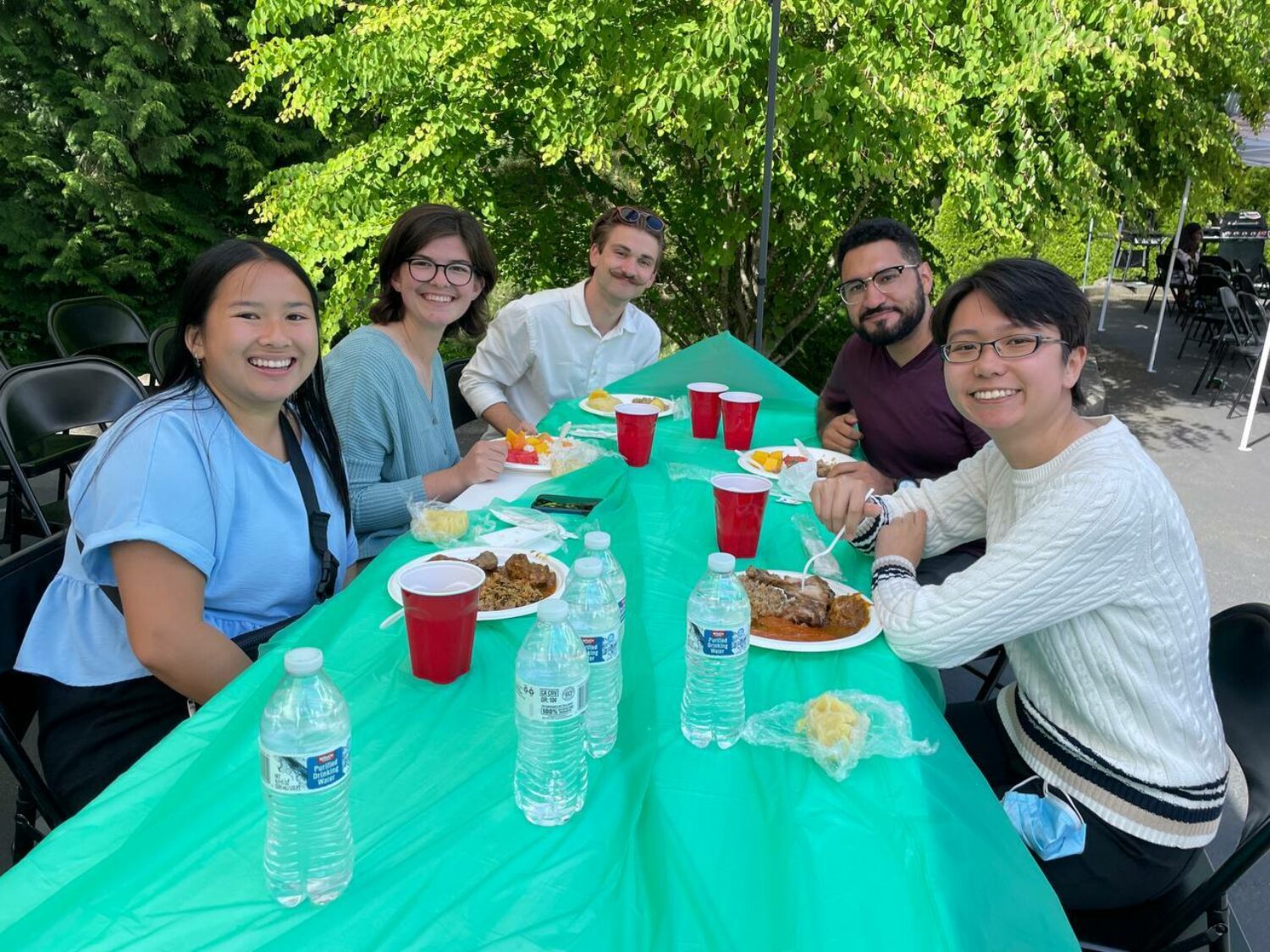 This summer, BDL welcomed a former intern, Cooper Sloan, back as a full-time Mechanical Design Engineer and hosted two mechanical engineering interns from the University of Dayton, Grace Miller and Sydney Baker. Grace and Sydney were with us for ten weeks.
Cooper graduated from the University of Portland, where he studied Mechanical Engineering with a minor in innovation. He grew up in north-central Washington, where he developed a passion for skiing. Cooper also enjoys a good game of chess and has an excessive tea collection.
As an intern in the summer of 2021, he worked on developing ergonomic drive mechanisms for the shea roaster project. Cooper's work focuses on the new Burn Manufacturing Project designing a cookstove that works with round and flat-bottom pots.
Sydney is a senior Mechanical Engineering student and chose to intern at BDL to have the opportunity to collaborate on projects focused on sustainability and human-centered design. She enjoys hiking, reading, and gardening. Grace is a senior Mechanical Engineering student pursuing a minor in Human Movement Biomechanics. She is passionate about using her engineering skills to help improve the lives of others. Grace enjoys cooking, painting, hiking, and traveling.
This summer, Sydney helped support the ILF factory improvement project. Her projects focused on designing a new pot stand press and fabricating and testing a lever shear back gauge. Grace also worked on the ILF project, calculating the factory space and layouts needed to make clay liners and stoves and designing computer models, fabricating, and testing stoves.