Wisdom Is Bringing Clean Cooking to Rural Communities
Rural communities desperately need clean cooking solutions. Burn Design Lab's newest opportunity is to support the fabrication of a clean, efficient, and affordable cookstove designed for use in rural communities in Kenya. The Wisdom Jiko by Wisdom Energy burns biomass, meaning rural, agricultural communities can use the waste from their day-to-day activities to power their stoves, rather than using precious wood from the local forest.
Wisdom Energy Hub Ltd (WEH) is located in Engineer Town, Kenya, and manufactures and distributes approximately 100 improved stoves each month. After reaching out to the Clean Cooking Alliance for help, WEH was given our name and reached out to BDL for technical support on improving their stove's durability and production processes to reach a minimum output of 750 stoves per month.
The factory has created 31 jobs and produced more than 4,400 stoves. Their improved cookstove has directly impacted the lives of over 20,000 individuals, saved an estimated 44,000 trees, and mitigated over 36,500 metric tons of CO2 emissions.
Wisdom Energy created an innovative distribution strategy to distribute the stove and encourage use and adoption, stressing demonstrations and teaching to get the stove into rural Kenyan communities. Trained representatives from WEH lead group demonstrations within communities. Each group then meets at least once per month, and each member who wants to acquire the stove fills out a 3-month loan form. The members guarantee each other, but ultimately the group savings become the security for each member that acquires the stove on credit. Finally, each group acts as a distribution point during the following monthly meeting, encouraging further stove adoption.
Most fabrication work is done manually; however, a few human-operated machines are used. Because of the potential to save time, our project focuses on identifying equipment and tooling to expedite the stove's top face manufacturing. We will provide recommendations to improve cutting and forming the top face, be on-site to introduce the new machines and tools, and develop a maintenance plan to ensure the factory's long-term sustainability

They've Got the (Hand)Power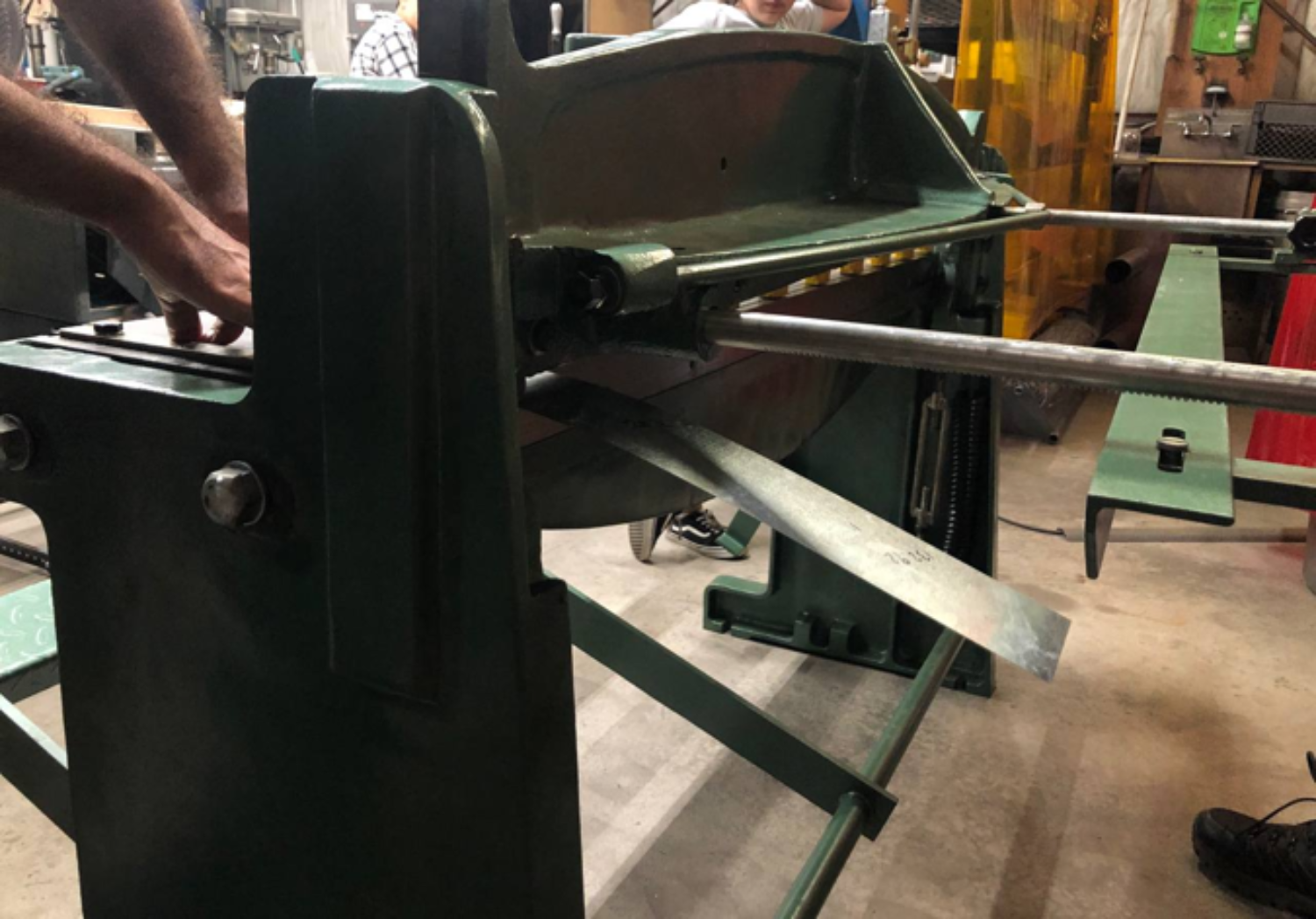 Can you imagine going about your day-to-day business without having reliable electricity? For most of us, that idea is inconceivable. Yet for the International Lifeline Fund Improved Cookstove Factory in Lira, Uganda, that is their daily reality. Our task is to introduce adaptable and appropriate modern machinery and manufacturing methods that will improve the factory and staff's work environment and productivity, leading to a threefold increase in stove output per month, all while considering the realities of life in the factory. The improvements will increase access to improved cookstoves in northern Uganda while stimulating the local economy by sourcing materials locally and providing opportunities for skilled and semi-skilled labor.
After our team's initial visit to the factory in Lira in 2020, we analyzed the current work practices and methods to make our recommendations. This is a three-part process:
1) Understand: Define the requirements and specifications for the given factory setting. For example, the factory has unreliable electricity yet is attempting to move to a high-production facility.
2) Search: Take what we learned and look for appropriate machinery. This can take us in two directions: designing and building machinery or tools from scratch for special applications or buying currently available machinery.
3) Evaluate: We take the time to demo every machine or tool we recommend and do our best to simulate the environment on the ground in Uganda.
One example of this process is the table shear. While evaluating the current factory methods, BDL engineer Louisa Anderson identified an opportunity for substantial time savings by automating the marking operation. At the factory, workers have to mark all the parts of a stove by hand on sheet metal and then make the cuts, taking about 10 minutes per stove. By introducing a table shear, which holds the material in place and has a gauge to ensure uniform cuts, marking and cutting by hand is eliminated, and the process takes less than six minutes per stove.
In theory, this would work perfectly, but testing made it clear that this would not work as intended due to the thinness of the sheet metal. Under volunteer Bryan Willman's leadership of the design and fabrication, we adapted the machine by creating a prototype with a backstop system that will support the sheet metal as it is fed into the machine.
The table shear and some other machinery are in transit to Uganda now and should arrive in early May. Our team members will be heading to Uganda shortly after to train the factory employees in the use and maintenance of the machines and gather further information for understanding what additional tools and machinery are needed.
Shea butter is everywhere these days. From cosmetic industry giants like L'Oréal to the grocery store candy aisle where you can find it in Kit Kats and Milky Ways. With more than 3 million women employed in the shea sector across the shea belt in Africa and the market expected to grow to $2.9 billion by 2025, the shea industry offers an opportunity to lift women and their families out of poverty through fair trade. Yet the health impacts of producing shea are often ignored, which is why Burn Design Lab has been at work on an Improved Shea Roaster for shea butter processors since 2018. Our latest design, which we field-tested in November 2021, has more than double the efficiency of traditional roasters. When using "shea cake" for fuel (a waste product of the shea butter production), the latest design reduces wood fuel consumption by over 90%. BDL is moving forward with a pilot program to manufacture the new roaster design locally and monitor the units' performance, durability, and adoption rate throughout 2022.
Do you know what it takes to bring shea butter to your home? The pictures above tell the story.
Images 1 & 2: After sorting the good nuts from the bad nuts, the women wash them. Once dry, an electric motor-driven machine crushes the nuts. Sometimes the women need to reach into the machine to prevent jamming.
Image 3: The women normally let the nuts dry out in the sun for a day, but sometimes start roasting within a couple of hours of crushing the nuts.

Images 4 & 5: Kneading the milled nuts by hand. When water is added to the nuts, the fat separates and is skimmed off the top.
Images 6 & 7: The waste water and biomass are taken out back to dry. Clarifying the oil.

Image 8: After skimming off the oil multiple times and switching between pots, the oil starts becoming very clear

Image 9: After removing the impurities and letting it rest, the oil is very clear.

Image 10: Letting the oil cool over the course of 1-3 days with some intermittent manual stirring, the butter starts to take shape.

Welcome to BDL's First Field Associate
We are very excited to introduce BDL's first Field Associate: Abdul-Fatawu Salifu! Abdul has been supporting BDL in Ghana since the inception of the Shea Roaster Project in 2018, and we are pleased to welcome him to the team officially. Thus far, his work has involved coordination and communication between BDL and various shea butter processing cooperatives in Ghana. Most of his time is spent collecting user research on traditional roasting methods, end-user demographics, end-user preferences, and data on BDL shea roaster prototypes. In 2022, Abdul's role as a Field Associate has been expanded to include support in the manufacturing of the roaster through scoping fabricators, sourcing local materials, and coordinating any imported components.
Abdul has a Bachelor of Arts degree in Sociology and Social Work from Kwame Nkrumah University of Science and Technology in Kumasi, Ghana. Before engaging with Burn Design Lab, he worked with Burro-USAID/NGR as an interpreter, Fidelity Bank as a Digital Sales Executive, at the Swiss Federal Institute of Aquatic Science Technology and Research (Eawag) as a field officer, as a volunteer for Zurak Cancer Foundation, and the Youth Development Network as a Youth Mobilizer. Abdul is happy to join the team at BDL