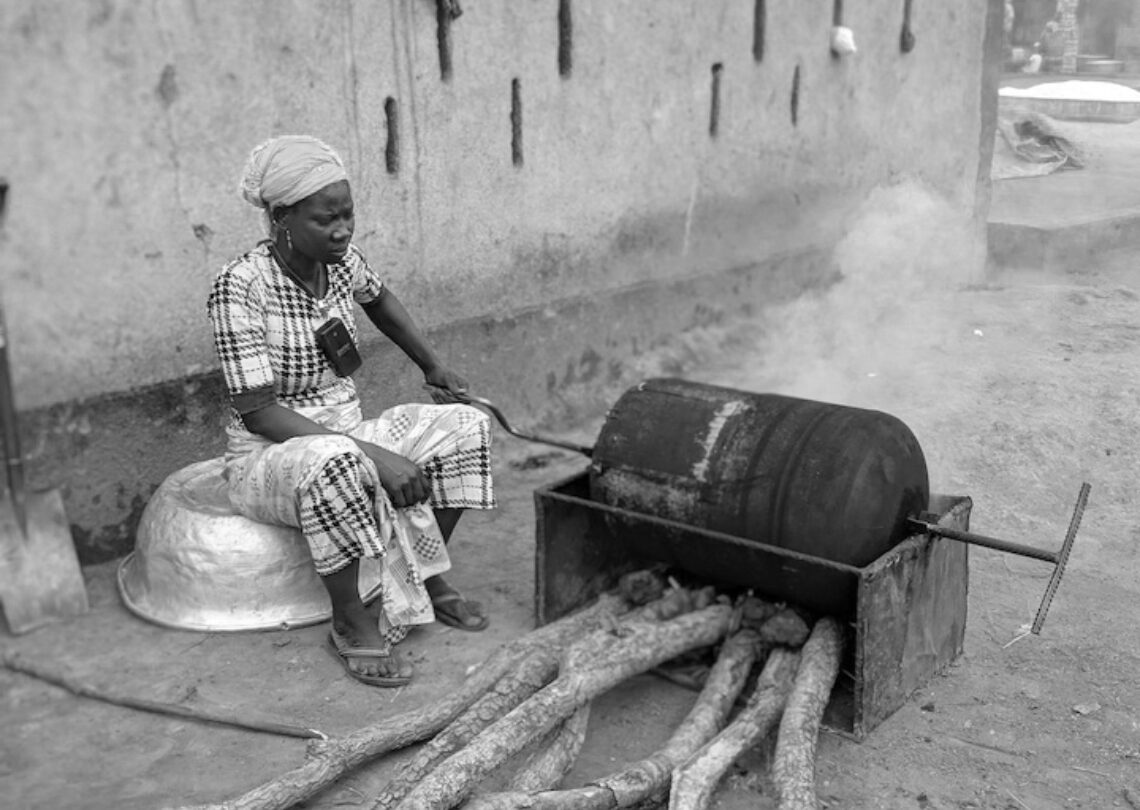 Improved Shea Roaster
Ghana
Shea nuts are grown and harvested across much of West Africa. It is a multi-billion-dollar industry, and most of the processing is done by women who get paid very little. The current process for roasting shea kernels needs improvement to address significant health and environmental shortcomings, including low fuel efficiency and high particulate emissions, and inconsistent roasting quality.
Since this project began in May 2018, we have:

- Designed close to one hundred iterations and built dozens of prototypes 
- Performed hundreds of laboratory and field tests
- Gathered user feedback from over 1200 women
- Transferred the technology and the manufacturing to Northern Ghana as part of our Pilot Phase
- Partnered with 4 different local organizations 
The next step for the Shea Roaster Project is the Pilot Phase which began in early 2022. Our goal is to pilot the manufacturing in West Africa and perform a longer-term study of our roaster's performance, durability, and adoption. By the end of our pilot phase, we (will) have:
- 10 locally produced roasters manufactured in Ghana  
- Transferred technology and manufacturing methods to 2 different fabricators 
- Installed in 5 cooperatives across the Northern Region 
- Trained over 500 women on the operation and maintenance of BDL's improved roaster 
- Evaluated the performance, adoption, and durability both internally and via third party
To stay up to date with the project sign up for our mailing list or follow along on our team blog!
Support the Shea Roaster Project today!
"I am worried this job will give me lung infections due to the I smoke am exposed to."

—Fulera Imoro , Tuntieya Shea Butter Processing Centre - Jisonayili
Project Goals
Improved Roaster

Save up to 90% wood use when switching to shea cake residue fuel

Save up to 70% harmful emissions to users (PM2.5)

Save an estimated 0.68 etCO2 per ton of butter produced

Provide more than double the thermal efficiency of traditional rotating shea nut roasters 

Last more than three years in heavy use

Roast shea faster and produce higher quality butter

Alternative Fuels

Designed to eliminate most, if not all, wood consumption as fuel source. 

Inline with Ghana's goals to move towards 50% LPG usage by 2020 (goal created in 2013).

Improve the use of shea cake or briquette, the biomass byproduct of the shea butter process, as the main source of fuel

Ergonomic Drive Mechanism

Mechanism to make it safer and easier for women to rotate the roaster drum. 

Rotation aided by treadle design. 
Partners & Sponsors
Global Shea Alliance
The Savannah Fruits Company
Baraka Shea Butter
Winrock International
TechnoServe
Henry E. Niles Foundation
evanhealy
Curious about this project?
Browse our FAQs or contact us with your questions.
Want to see more projects like this?
Share or donate now to support our work saving the environment and empowering people in the developing world